Congress Working Committee announces schedule for election of party president
Congress Working Committee (CWC) today announced the schedule for the election of party president. The decision came during the CWC meeting held at party president Sonia Gandhi's residence in New Delhi. Notification of the party's internal poll will be issued on 1st of December, voting will be held on 16th December and counting on 19th.

In her address during the meeting, Congress President Sonia Gandhi took on the Centre and alleged that it is sabotaging the Winter Session of Parliament on flimsy grounds. She said the government is mistaken if it thinks that by locking the temple of democracy, it can escape constitutional accountability ahead of Gujarat assembly elections.
"The Prime Minister had the audacity to have a midnight celebration in Parliament to launch an ill prepared and flawed GST but today he lacks the courage to face Parliament," said Sonia Gandhi.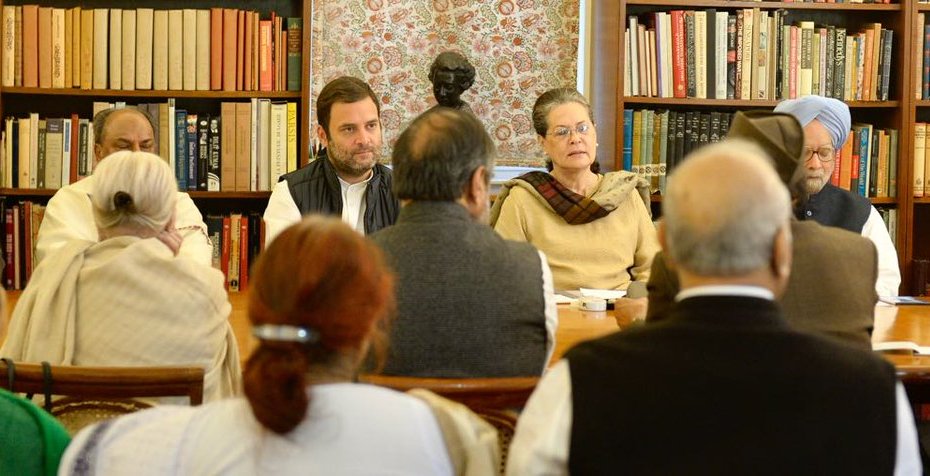 Congress Vice President Rahul Gandhi, former Prime Minister Manmohan Singh, senior leaders Mallikarjun Kharge and P Chidambaram among others attended the meeting.
According to sources in the party, Rahul Gandhi is likely to be the only candidate in the fray. The Election Commission has set the party a deadline of December 31 to complete its organisational elections.
Tags : Congress Congress CWC party president Rahul Gandhi