Narendra Modi and his Israeli counterpart Benjamin Netanyahu on a day-long visit to Gujarat
Prime Minister Narendra Modi and his Israeli counterpart Benjamin Netanyahu are on a day-long visit to Gujarat on Wednesday. Both leaders are holding a roadshow in Ahmedabad and visiting Sabarmati Ashram to pay tributes to the father of the nation, Mahatma Gandhi.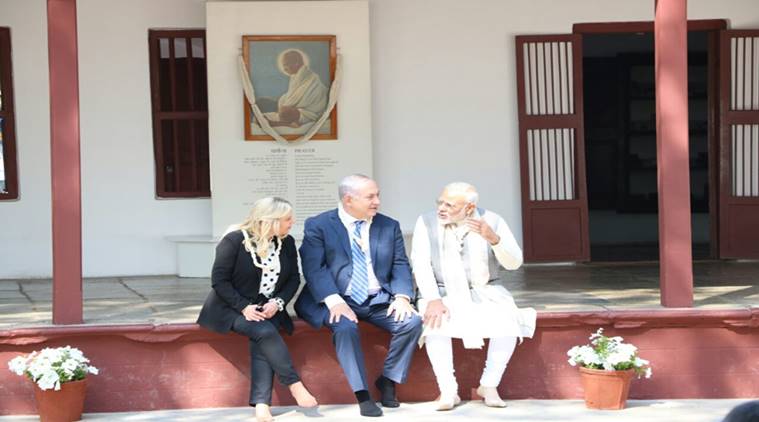 Narendra Modi and Benjamin Netanyahu will also visit the International Centre for Entrepreneurship and Technology (iCreate) at Devdholera in Ahmedabad and inaugurate the newly built campus. iCreate was launched by Modi when he was the Chief Minister of Gujarat Chief Minister in 2011. Both Prime Ministers will address the business community on the occasion.
The Israeli Prime Minister will also present Modi, the Gal-Mobile water desalinisation and purification jeep, the two leaders rode on at Israel's Olga beach last year. There will be a live demonstration of desalination of sea water that the two Prime Ministers will witness through video conferencing from the i-Create centre.
They will later visit a centre of excellence for vegetables at Vadrad in Sabarkantha district. The centre was set up in 2015 under the Indo-Israel Agriculture Work Plan for the exchange of advanced farming technology.
A pillar set up to mark the friendship between India and Israel will be unveiled, which will be followed by an interaction with around 500 farmers. The two leaders will also inaugurate a research facility for the cultivation of dates in Kutch through video conferencing.
Tags : Narendra Modi Israeli PM Benjamin Netanyahu Gujarat Sabarmati Ashram iCreate