Prime Minister along with several other Ministers compliment Sushma Swaraj for her speech at UN
Prime Minister Narendra Modi lauded External Affairs Minister Sushma Swaraj for her speech at the Uniter Nations General Assembly. The Prime Minister in a tweet said, "Mrs Swaraj speech was incredible and she has made India extremely proud at the world stage."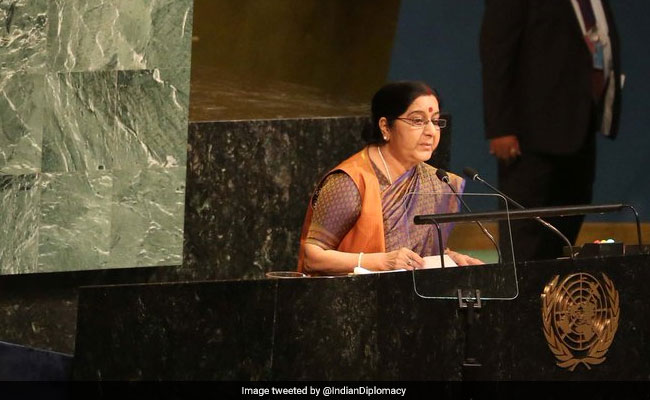 Hitting out strongly at Pakistan for creating terror groups like Lashkar-e-Taiba, Jaish-e-Mohammed, Hizbul Mujahideen and the Haqqani Network, India has asked Pakistani leaders to introspect as to why their country is infamous as the pre-eminent export factory for terror.
In her address to the UN General Assembly last night, External Affairs Minister Sushma Swaraj also accused Pakistan of waging a war against India. She said, while India made institutes like IIT, IIM and AIIMS, Pakistan created terror groups like LeT, JeM, Hizbul Mujahideen and Haqqani Network.
PM Modi said, "Mrs Swaraj gave a strong message to the world on the dangers of terrorism and why we have to unite and fight this menace."
The Prime Minister said, the External Affairs Minister was insightful in identifying global challenges and strongly reiterated India's commitment to create a better planet.
Meanwhile, Home Minister Rajnath Singh has congratulated External Affairs Minister Sushma Swaraj for her speech at the UN General Assembly. The Home Minister in a tweet said, "Mrs Swaraj has exposed Pakistan's duplicity on terrorism."
Finance Minister Arun Jaitley congratulated Sushma Swaraj for brilliantly espousing India's case at the United Nations General Assembly.
Minister of State for Information and Broadcasting Col Rajyavardhan Rathore said, "External Affairs Minister Sushma Swaraj gave a fantastic speech detailing India's position at United Nations General Assembly." He said, Swaraj elucidated Prime Minister Narendra Modi's vision for economic empowerment.
Tags : Prime Minister Sushma Swaraj UNGA