Vice President M. Venkaiah Naidu arrived in Guwahati; will attend Sadin-Pratidin group's 'Achiever Awards'
Assam Governor Prof. Jagdish Mukhi and Chief Minister Sarbananda Sonowal on Saturday evening received Vice President M Venkaiah Naidu at Lokapriya Gopinath Bordoloi International Airport in Guwahati. He is in the city on a two-day visit. M Venkaiah Naidu on his arrival to the Airport was given traditional welcome by gamocha and bouquet of flowers by the Governor, Chief Minister along with Water Resources Minister Keshab Mahanta, Chief Minister's Media Adviser Hrishikesh Goswami, MPs, senior government officers and other dignitaries.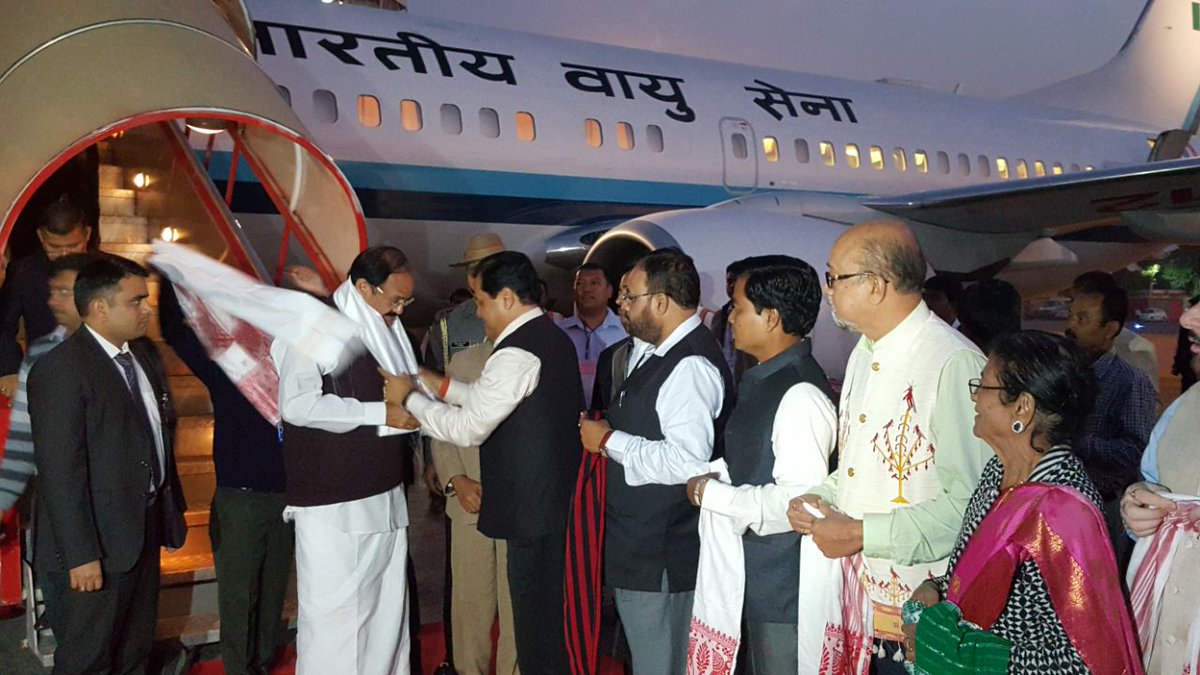 The Vice President, Naidu stayed overnight at Raj Bhavan. Representatives of various organisations called on the Vice President at Raj Bhavan last evening.
The Vice President would launch Deendayal Divyangjan Sahajya Achoni today at the Sarusajai Stadium where Government of Assam would give one time grant of Rs. 5000 each to all the Divyangjans in the State. The programme has been organised on the occasion of international day of persons with disabilities.
Later the Vice President will attend the 'Achiever Awards' programme organised by 'Sadin-Pratidin' Group as the Chief Guest. To honour people and organisations from various sectors of the State, who have taken the name of Assam to glorious heights, by contributing to the States' development, 'Sadin-Pratidin' Group, a leading media house of Guwahati, annually confers 'Achiever Awards' to leading personalities and organisations of the State.
Meanwhile, security has been beefed up in the city in view of M. Venkaiah Naidu's maiden visit since taking oath as the Vice President of India. He will leave for Delhi in the evening.
Tags : Vice President M. Venkaiah Naidu Guwahati Sadin-Pratidin group Achiever Awards