Nepal-India defence cooperation inter-linked and inter-dependent, says PM Narendra Modi
India on Thursday said, security interests of India and Nepal are inter-linked and inter-dependent and cooperation in Defence and Security sectors is an important feature of their partnership.
After holding delegation level talks with visiting Nepalese Prime Minister Sher Bahadur Deuba in New Delhi, Prime Minister Narendra Modi stressed on close cooperation between defence and security agencies of the two countries to prevent misuse of open borders.
PM Narendra Modi said Prime Minister Deuba and he have agreed to further extend people to people relations through skill development and capacity building initiatives by better connectivity and developing Budhhist and Ramayana tourism circuits. Modi said, four of the eight MoUs which were signed today will take forward India's promise of one billion dollar assistance for reconstruction work post earthquake in Nepal.
The Prime Minister said India and Nepal have agreed on several economic connectivity and development projects to carry forward the partnership for the development of the neighbouring country.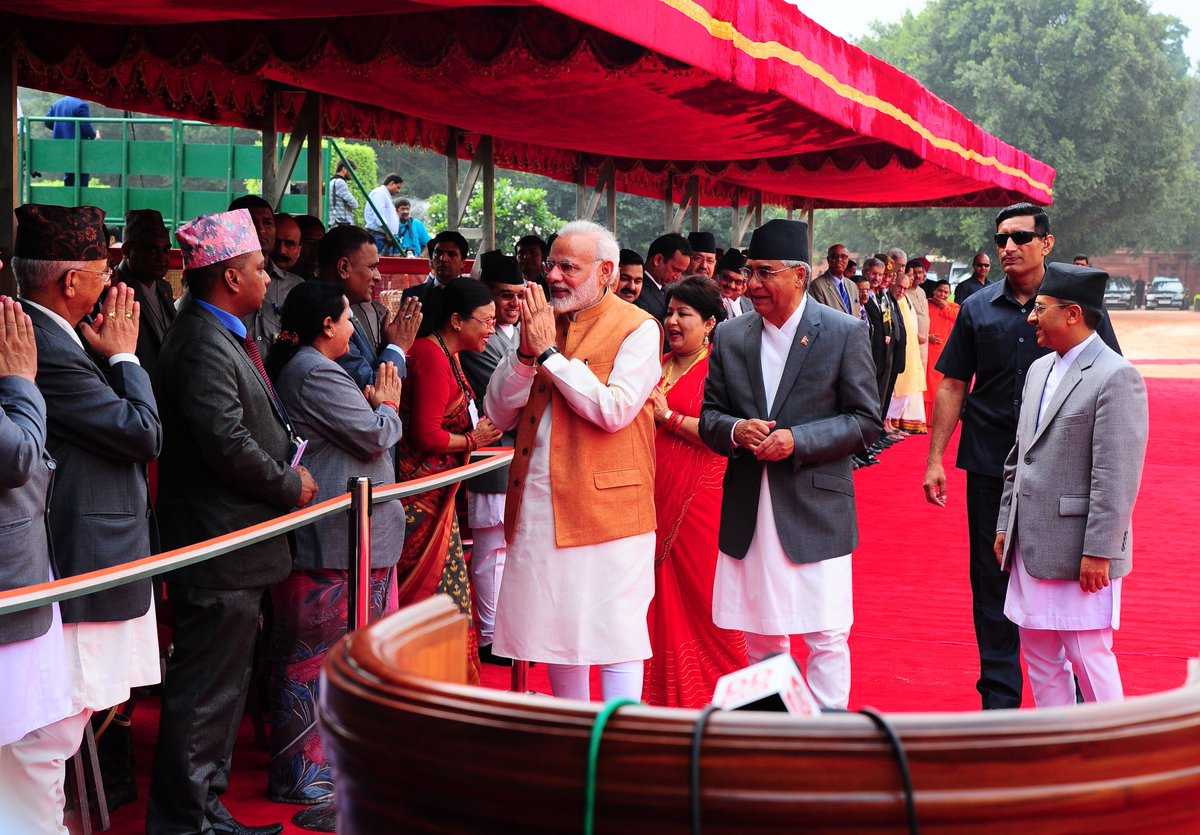 On trade relations, PM Modi said the two countries have agreed to further expand trade relations which is not only in the interest of the people of the countries but also essential for regional prosperity.
On the other hand, in his press statement, Nepal Prime Minister Sher Bahadur Deuba said, relations between India and Nepal are comprehensive binded by culture and civilisation. Deuba further said, there are vast opportunities for India in Nepal regarding trade and water resources. He said, Nepal will resolve all the issues and adopt its Constitution at the earliest.
Earlier, the two nations inked 8 Memorandum of Understandings (MoUs) in various fields. The two leaders also jointly inaugurated the Kataiya-Kusaha and Raxaul-Parwanipur cross border Transmission lines.
Deuba arrived in New Delhi on Wednesday on a five day state visit to India. A high-level delegation is accompanying the Nepalese Prime Minister. He was accorded ceremonial reception at Rashtrapati Bhavan this morning. He also visited Rajghat and paid tributes to Father of the Nation Mahatma Gandhi.
Tags : Nepal-India defence cooperation Narendra Modi Sher Bahadur Deuba